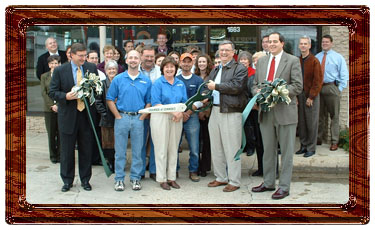 Circle City Glass, Inc. is located in the Southeastern Corner of Alabama, just thirty miles from both the Georgia, and Florida lines. Our "Tristate Area" location allows us to easily service the Wiregrass area in Alabama, the Florida Panhandle, and Southwest Georgia. Circle City Glass was established in April 2002 when Bob and Pat Hartzog purchased the building and equipment that was part of Beauchamp Glass Company, a company that had operated in Dothan since the early 1950's. Circle City Glass, Inc. quickly became known for its ability to offer Bob's years of diversified experience in both commercial and residential glass products. Bob worked for many years in the commercial contract, glass and glazing business, and as a manufacturer's representative in both the aluminum and glass manufacturing business. Having experience in small communities and larger cities, such as Atlanta, Denver and Pensacola, has allowed Bob to gain experience unlike many in the industry. Circle City Glass, Inc., through Bob's leadership, has been able to grow into a company that is able to offer expertise, problem solving skills and honest, ethical standards with the customer's needs and concerns always in mind.
Bob's desire to offer the Dothan area the expertise in energy efficient, reliable quality products and services both in commercial and residential glass products was further enhanced by the addition of his son-in-law, Billy Perdue, (President) and his son, Michael Hartzog, (Vice President/CFO). They have proven to be great additions to the company with their work ethic and desire to learn. Our goal as a family owned and operated business is to continue to offer all of our Wiregrass area friends, old, new and those who have been so loyal to us over the past seven years, the best products and service the industry has to offer. We will continue to grow in the knowledge of new products and services in order to help our customers make the best choice in glass related products for their building or remodeling needs.
Customers can call 334-794-6160 for an appointment to come visit Circle City Glass's showroom and check out our product displays for both the commercial and residential construction markets. We offer a variety of product options with our customer's special needs in mind. We offer standard and custom shower doors both framed and frameless, plus over 110 art glass samples to choose from to add beauty and texture to your cabinet doors. Choosing Circle City Glass for your glass needs will be your best choice.
We accept all major credit cards and are conveniently located at 1663 Montgomery Hwy just 3 miles South of Ross Clark Circle and Wiregrass Commons Mall.
Circle City Glass, Inc. is a member of the following professional organizations:
Associated General Contractors, Associated Builders and Contractors, The Dothan Chamber of Commerce, and The National Glass Association.